Holiday Inn Express Salado-Belton
30.96252

,

-97.52781
100US$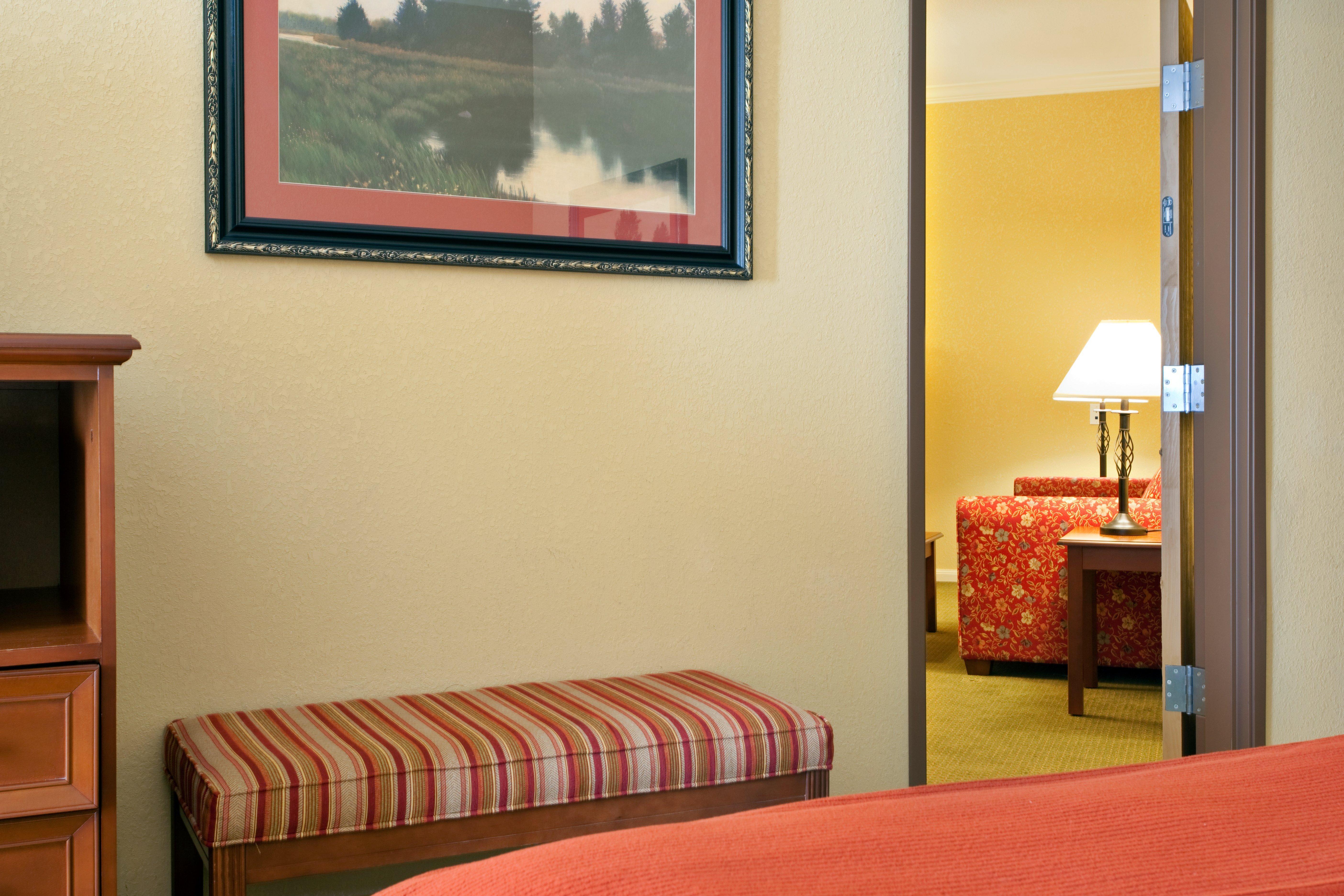 Address
1991 North Stagecoach Road
,
Salado
,
Texas
,
United States
,
76571
, Texas
Overview
Located within a 10-minute drive of Salado Glassworks Gallery, Holiday Inn Express Salado-Belton offers Wi-Fi throughout the property and an a parking lot. Along with the use of a gym facility on site, sports fans are invited to discover Mill Creek Golf and Country Club, which is nearly a 10-minute stroll away.
Location
The 3-star inn is placed about 35 miles from Killeen-Fort Hood Regional airport and 10 minutes by car from cultural venues like Sirril Art Gallery. Guests can visit places of worship like First Baptist Church, set within 1.7 miles of Express Salado-Belton Salado. The Salado hotel is situated within 2.4 miles of Wildfire Ranch Arena.
In addition, there is freeway around the corner from Holiday Inn Express Salado-Belton.
Rooms
Some rooms at the Salado accommodation are appointed with an iron and climate control along with self-catering options such as coffee/tea making equipment. Some of the units have a private bathroom with a bathtub.
Eat & Drink
At the hotel Holiday Inn Express Salado-Belton guests are invited to a full breakfast served for free. 
Leisure & Business
There is a swimming pool and a golf course available at additional cost. Beach facilities at the hotel include sun loungers and towels. The Salado property includes a 24-hour business center and a meeting room equipped with a photocopy machine and a work desk.
Internet
Wireless internet is available in the entire hotel for free.
Guest Parking
Public parking is possible on site for free.
Number of rooms:   79.
Former name: Holiday Inn Express Salado
Best-Rated Holiday Inn Express Hotels around Salado
Staying at Holiday Inn Express means experiencing comfort and convenience without breaking the bank. The brand's focus on free high-speed internet, complimentary breakfast, and a 24-hour fitness center allows guests to focus on their work, while taking care of their well-being. Whether you are traveling for business or leisure, Holiday Inn Express guarantees a memorable stay.
34 reviews

89$ / night

38 reviews

117$ / night

23 reviews

86$ / night

3 reviews

165$ / night

12 reviews

158$ / night

61 reviews

74$ / night

4 reviews

100$ / night

6 reviews

92$ / night
Facilities
Most popular facilities
24-hour services
Late check-in/ -out
24-hour reception
General
Wi-Fi
Parking
24-hour services
Fitness/ Gym
Swimming pool
Laundry
TV
Sports & Fitness
Fitness center
Tennis court
Golf course
Services
Room service
Housekeeping
Laundry
Business
Business center
Meeting/ Banquet facilities
Fax/Photocopying
Facilities for people with disabilities
Toilet for disabled
Bathroom for disabled
Spa & Leisure
Seasonal outdoor pool
Sun loungers
Room features
Air conditioning
Heating
Sitting area
Tea and coffee facilities
Ironing facilities
Media
Flat-screen TV
Direct dial telephone
AM/FM alarm clock
Good to know
Check-in
from 15:00-23:59
FREE
Check-out
until 11 am
FREE
Children & extra beds
There are no cribs provided in a room. 
Pets
Pets are allowed on request.
Rooms and availability
Queen Room Two Queen Beds

Bed options:

Room size:

325 sq. feet

Max:

4 persons

Bed options:

Room size:

325 sq. feet

Max:

2 persons
Queen Room Two Queen Beds Disability Access

Bed options:

Room size:

325 sq. feet

Max:

4 persons
Coffee machine

Heating

Bathtub

Air conditioning
Location
1991 North Stagecoach Road
,
Salado
,
Texas
,
United States
,
76571
, Texas
City landmarks
Nearby
Restaurants
Hotels nearby
113 Salado Plaza Dr
Salado Sculpture Garden
3600 ft
Saint Josephs Episcopal Church
3200 ft
Presbyterian Church of Salado
3200 ft
Salado Wine Seller
4400 ft
Golf Course
Mill Creek Golf and Country Club
4700 ft
Church
Salado United Methodist Church
1.2 mi
Park
Salado College Hill Park
1.5 mi
Church
First Baptist Church
1.4 mi
Theatre
Salado Silver Spur Theater
1.4 mi
Gallery
Sirril Art Gallery
1.4 mi
14343 Interstate Highway 35
Wildfire Ranch Arena
2.2 mi
Saint Stephens Catholic Church
2.2 mi
Grace Baptist Church
2.3 mi
Central Texas Area Museum
2.8 mi
Saint Josephs Episcopal Church
1200 ft
Presbyterian Church of Salado
1200 ft
Restaurant
Brookshire Brothers
2500 ft
Getting around
Airports
Killeen-Fort Hood Regional

(GRK)
33.5 mi
Waco Regional

(ACT)
57.2 mi
You can book a shuttle, once your reservation is complete.
Reviews of Holiday Inn Express Of Salado-Belton, An Ihg Hotel
Charlotte

During our Christmas stay at this hotel, we were impressed with the cleanliness of the premises from the entrance to the pool area to our room. Breakfast was satisfying with a variety of options including cereal, juices, and cinnamon rolls, and the coffee was good. The hotel's proximity to the highway made it easy and convenient to locate. Additionally, the free parking and friendly personnel added to the positive experience.

While our stay was enjoyable, we did have a couple of gripes. The breakfast selection was limited, and we wish there were scrambled eggs and bacon options. Also, the pillowcases were too rough for comfort. we had an excellent stay, and these minor concerns did not detract from the enjoyable holiday experience.

Bob

We had a great experience during our New Year's stay. The breakfast offered a good variety of choices, and the staff was friendly and helpful. Additionally, the location was conveniently situated near the highway and a downtown area. An extra benefit was the comfortable beds, which gave us a good night's rest.

The only negative was that the bathroom could use some improvements. The shower pressure was difficult to adjust and the toilet had a problem with flushing. However, this didn't detract from our overall enjoyment of our stay.

Joe

The hotel offered complementary snacks and breakfast goodies, which were a nice touch during the busy Christmas season. The location right off the highway made it convenient for traveling. The beautiful pool was a great advantage and provided a nice atmosphere during our stay.

The noise level of the freeway and surrounding construction was distracting and made it difficult to sleep. Additionally, the breakfast hours were limited and some of the food was not up to standard.

missing

Very large room with two stuffed back chair

Pillows were very hard and the bed was hard

missing

We were on our way to a funeral, and needed the comfort and pampering of a quiet, well appointed room and excellent professional service and a good nights sleep. And wonderful hot coffee and breakfast!

missing

Comfort, security and breakfast

missing

location-comfort of room-pool area

missing

Clean hotel, friendly staff and a great breakfast

All good

missing

location was good.

People talking loud and people leaving the TV on almost all night.

missing

This property is in like new condition, staff very friendly & courteous, very good breakfast offerings, really liked fridge & microwave in room, beautiful pool area, had luggage carts available for guest use. Definitely would recommend this property

The bed was a bit too firm, late breakfast hot foods a little cold, highway construction made access somewhat problematic (not hotel's fault, just inconvenient). Insignificant problems would not prevent me from staying here again.

missing

The ladies at the front desk were all so kind and eager to be of service. They were very knowledgeable of the are and happy to suggest places to eat and visit. The free breakfast was very good with a wonderful choice. The pool was a little small, but beautiful. It was located close to downtown and had easy access to The Terrace, the venue we were attending, and the highway. The town of Salado has so many great things to do. The rooms were clean and very nice. It was a great stay!!

missing

Nice ppace

Bed pads hold to much heat makes the bed harder couldn't sleep . Asked For non wheel chair accessible but I think this was due to the bed pads. The rooms upstairs didn't seem that bad before . So the bed padding it what made the bed not comfy

missing

Easy access (well, there is construction on the roads) and expansive breakfast area. Pretty clean pool. Laundry facilities. Room was clean and the microwave and mini fridge were right size.

The eggs at breakfast. Uggg.

missing

Liked almost everything about this hotel including how clean hotel was from the entrance to the dining area to the room (which faced the beautiful pool) and bathroom. Great location right off I 35 and within a couple of minutes from Salado. Prices were much better than the Bed and Breakfasts Inns in Salado. The hotel clerk that checked us in was very friendly. The free breakfast was nice although the pancakes were a little rubbery tasting. Other than that everything was great - coffee, juices, cereal, cinnamon rolls and how it was all set up. Would definitely recommend and would definitely stay again!

My only thing I personally did not like was the pillowcases - too rough. Sheets didn't bother me, but because the pillows are up against your face, they were too rough - love soft pillowcases.
FAQ about Holiday Inn Express Of Salado-Belton, An Ihg Hotel
What is the distance from the 3-star Holiday Inn Express Salado-Belton to Salado city center?
Salado city center is reachable within a 25-minute walk from the 3-star Holiday Inn Express Salado-Belton.
Which attractions can we visit during our stay in the Express Salado-Belton?
You can always visit one of the highly rated landmarks, Salado Glassworks Gallery, placed 1.7 miles away from the Express Salado-Belton. Other sights that are worth your while are Wildfire Ranch Arena (2.4 miles) as well as Salado Silver Spur Performing Arts Theater (1.8 miles).
Can we park our car at Holiday Inn Express Salado-Belton?
Yes, guests of Holiday Inn Express Salado-Belton can leave their car in a parking lot on site.
Can I eat breakfast at the comfortable 3-star Holiday Inn Express Salado-Belton?
Yes, guests can enjoy buffet breakfast provided by the comfortable 3-star Holiday Inn Express Salado-Belton.
What is check-in and check-out time at the inn?
Guests of the inn can check in from 3 PM to 11.59 PM and check out from 11 AM.
Which facilities are offered in the rooms of the hotel?
Every room in the hotel welcomes guests with the following facilities:
a writing table
a sitting area
a private safe
iron and ironing board
climate control
Are there any business facilities featured at the 3-star Holiday Inn Express Salado-Belton?
Yes, for business travelers the 3-star Holiday Inn Express Salado-Belton provides a photocopy machine and a work desk.